UH College of Education Professor Wins International Award for Presentation on Inclusive Teaching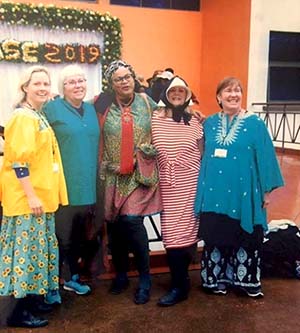 Posted Sept. 3, 2019 – Susie Gronseth, a clinical associate professor at the University of Houston College of Education, received an outstanding presentation award from the International Association of Special Education in July.
Gronseth presented on Universal Design for Learning – a framework to improve teaching to engage all students, no matter their varied approaches to learning. The presentation, at the association's biennial conference in Tanzania, was based on Gronseth's forthcoming book, "Universal Access Through Inclusive Instructional Design: International Perspectives on UDL." Gronseth, a professor in the College's Learning, Design and Technology program, serves as co-editor with Elizabeth Dalton, an adjunct professor at the University of Rhode Island.
The presentation also featured collaborators Britt Tatman-Ferguson (National University), Marcia Lyner-Cleophas (Stellenbosch University), Judith McKenzie (University of Cape Town) and Juliet Boone (Hyde Park Central School District).
After returning from Africa, Gronseth answered questions about the presentation and the book, set to be published in late September.
Q: What interested you in the topic?
A: I see strategic design of educational experiences as a way to meet learners where they are by demonstrating recognition of learner needs and designing instruction so that it matches those needs.
I was introduced to the Universal Design for Learning framework through the International Society for Technology in Education Inclusive Learning Network. UDL is a curricular design approach in which flexibility is incorporated into the instructional design to ultimately support learner self-regulation so that the learner can utilize the means to learning that aligns with his/her learning preferences and needs.
Q: Can you give an example of how you would teach a lesson using Universal Design for Learning?

A: I'll give you an example from my design thinking as I develop and teach my online courses at UH. In preparing for a course, I think about the different ways that learners will be accessing, processing, and applying the materials and how the curriculum can provide room for them to express what they are learning in various ways while still maintaining rigor and meeting target learning objectives.
I then work to develop course materials and experiences that offer multiple options for achieving the target objectives and varied ways for students to connect, discuss, create, apply, and reflect on the ideas and skills that we are working through in the course. I also incorporate intentional moments for students to self-assess their learning progress and how they can navigate the learning activities in the course purposefully so that they can achieve their learning goals.
Q: Could you highlight some important issues you addressed in the panel discussion at the conference?
A: In the panel session, we discussed how inclusive learning is a global issue. From UNESCO's Salamanca statement (1994) that calls the international community to promote inclusive education, individual countries are approaching inclusive education in different ways. In the book, many of the authors reference specific laws from their countries that speak to the education of individuals with disabilities, those with differing languages, refugee students, and others that often experience barriers to learning.
Q: What does this outstanding presentation award mean to you?
A: We are grateful to receive the recognition from the IASE community. The panel brought together a group of educators from different countries and facilitated insightful conversation around inclusive learning issues and strategy building that takes into account the unique characteristics of our contexts. The award honors the efforts of the 85 contributors to the book and their work in promoting inclusive education globally.
Q: Is there any other important information you'd like to share?
A: We have a website that provides an overview of the book and has a video with headshots of all the chapter authors. Haoyue Zhang, a current Ph.D. student in Learning, Design and Technology, and George Zhao, a recent graduate of our program, authored chapter 8, "Universal Design for Learning in China." We will be presenting several sessions relating to the book at the upcoming Association for Educational Communications and Technology International Convention this October.
–By Kathy Patnaude
–Photo courtesy of Susie Gronseth